Isuzu genuine accessories add protection, aptitude, and elegance to the D-MAX and mu-X
It's every true-blue Isuzu D-MAX and mu-X owner's wish: That only genuine Isuzu accessories would be fitted onto his or her beloved, reliable, and stylish looking Isuzu vehicle.
That wish is now realized. Even better, Isuzu Philippines Corporation makes it so much easier for Isuzu owners to have their Isuzu SUV and pick-up, brand new or otherwise, fitted with genuine Isuzu accessories.
The All-New Isuzu Genuine Accessories lineup makes available a wide range of Isuzu Genuine Accessories to add protect ion, aptitude, and elegance that you and your vehicle deserves.
And you don't have to go further than your trusted and approachable Isuzu dealership to have your chosen Isuzu Genuine Accessories installed. Fitting and installation services by Isuzu-trained technicians are available in all Isuzu dealerships nationwide.
You don't have to suffer the inconvenience of going to the malls and aftermarket stores to have accessories of unknown origin and materials fitted onto your Isuzu D-MAX or mu-X, and then realize later on that the accessories turn out to be dangerous and unsightly mismatches, or that the store offers no warranties. All-New Isuzu Genuine Accessories are made from highest-quality materials designed, tested, and approved by Japanese experts to perfectly fit your Isuzu vehicle and comply with Isuzu's safety and reliability standards. What's more, all Isuzu Genuine Accessories carry a 1-year warranty that non-genuine accessories do not offer. So, you are assured of the quality, reliability, and functionality of your accessories that enhance the unique characteristics of your D-MAX or mu-X.
Choose from a wide array of the much sought-after Isuzu Genuine Accessories, such as the following:
Bull bar (mu-X) -- In aluminum alloy and steel, the bull bar enhances the tough look of your pick-up or SUV.

Tonneau Cover and Organizer Box (mu-X) -- The tonneau cover ensures all items stored at the rear portion of the vehicle are in order. At the same time, it maximizes the rear space of your mu-X, enabling you to load more cargo, especially when travelling with your family. The organizer box is designed to be of the same height level when the 3rd row seat is folded.

Illuminated Rocker Plate (mu-X) -- Ensures the visibility of the steps for passengers going in or out of the vehicle.

Door handle trim, over fender, and fog ring chrome (mu-X) -- The simple yet stylish door handle trim protects the door handle from scratches, and comes in as a set for the four doors. The over fender protects the fender from dents and scratches caused by stones and other loose objects hitting the area while the vehicle is running. It also enhances the stylish urban look of the vehicle. The sophisticated and stylish fog ring chrome adds life to the vehicle's fascia.

Side bar (D-MAX) -- The side bar, which comes in either silver or black, is designed to protect the rocker panel in case of unforeseen collision with road obstructions, and also comes with functional non-slip steps for passengers' safety coming in and out of the vehicle. It's tested to withstand heavy loads, and is rust resistant.

Nudge bar (D-MAX) -- The nudge bar is a simple yet strong shield for the bumper and grille designed to absorb the impact of minor frontal collisions, thereby protecting the fascia, and is also functionally compatible with the air bag safety performance. It's much lighter than the steel-plated bull bar, and comes in silver and black.

Sports bar (D-MAX) -- The sporty and tough-looking sports bar, which is compatible with the under rail bed liner, comes with an installation kit so you don't need to punch holes or weld it onto the body. It's available in matte black and chrome.

Roof rail, head lamp garnish, and skirt set (D-MAX) -- The sporty, tough roof rail can tolerate up to 400 kgs, and can be used for accessories such as carriers. It comes in silver, dark grey, mat and black, and no drilling is needed in its installation. The head lamp garnish wide adds to the clean, luxurious look of the vehicle. The skirt set adds a tougher look to the D-MAX, and comes in cosmic black, silky white pearl white and splash white.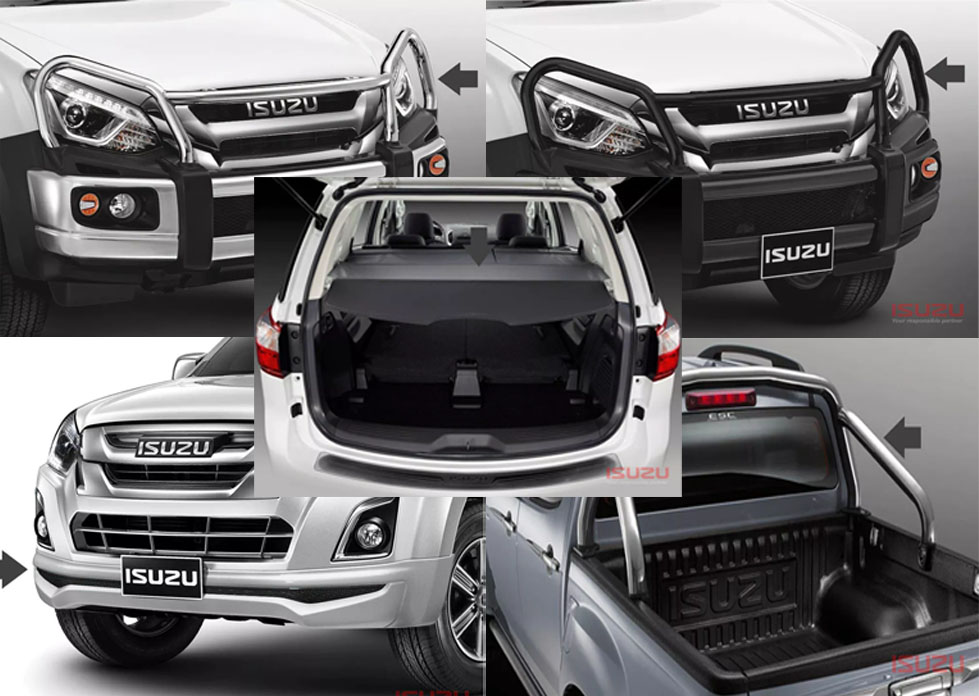 So, before you drive your brand spanking new D-MAX or mu-X out of your favorite Isuzu dealership, check out the Isuzu Genuine Accessories that will highlight the look, and enhance the functionality of your vehicle. Or if you need to upgrade and update the look, safety, and functionality of your current D-MAX or mu-X, head on to your nearest Isuzu dealership to get the best accessories at the best prices.
Date Posted: 2018-08-08 12:41:03
---