IPC announced 200K raffle promo winners.
Celebrating its 200,000 unit-sales, Isuzu Philippines Corporation turned into Santa Claus for buyers of the Isuzu Crosswind, D-Max and mu-X by giving away holiday presents in their 200,000 units sold promo.
Some eight winners from the National Capital Region (NCR), Luzon, Visayas and Mindanao received a brand new D-Max and mu-X after purchasing an Isuzu Crosswind and D-Max. Some four mu-X buyers, on the other hand, were given a vacation package for four to Amanpulo.
The winners of the brand new Isuzu D-Max pick-up are Evelyn Co (NCR), City government of Baguio (Luzon), Lloyd Centino (Visayas) and City government of Panabo (Mindanao).
(from left) Mr. Hajime Koso IPC President, Ms. Evelyn Co Isuzu D-MAX winner and Mr. Raymond Jarina Isuzu INTECO Group President
Meanwhile, Randy Carolino (NCR), Tanciano Reyes (Luzon), Juna Prado (Visayas) and Roger Clarete (Mindanao) draw are now owners of a brand new mu-X after buying an Isuzu D-Max during the November draw.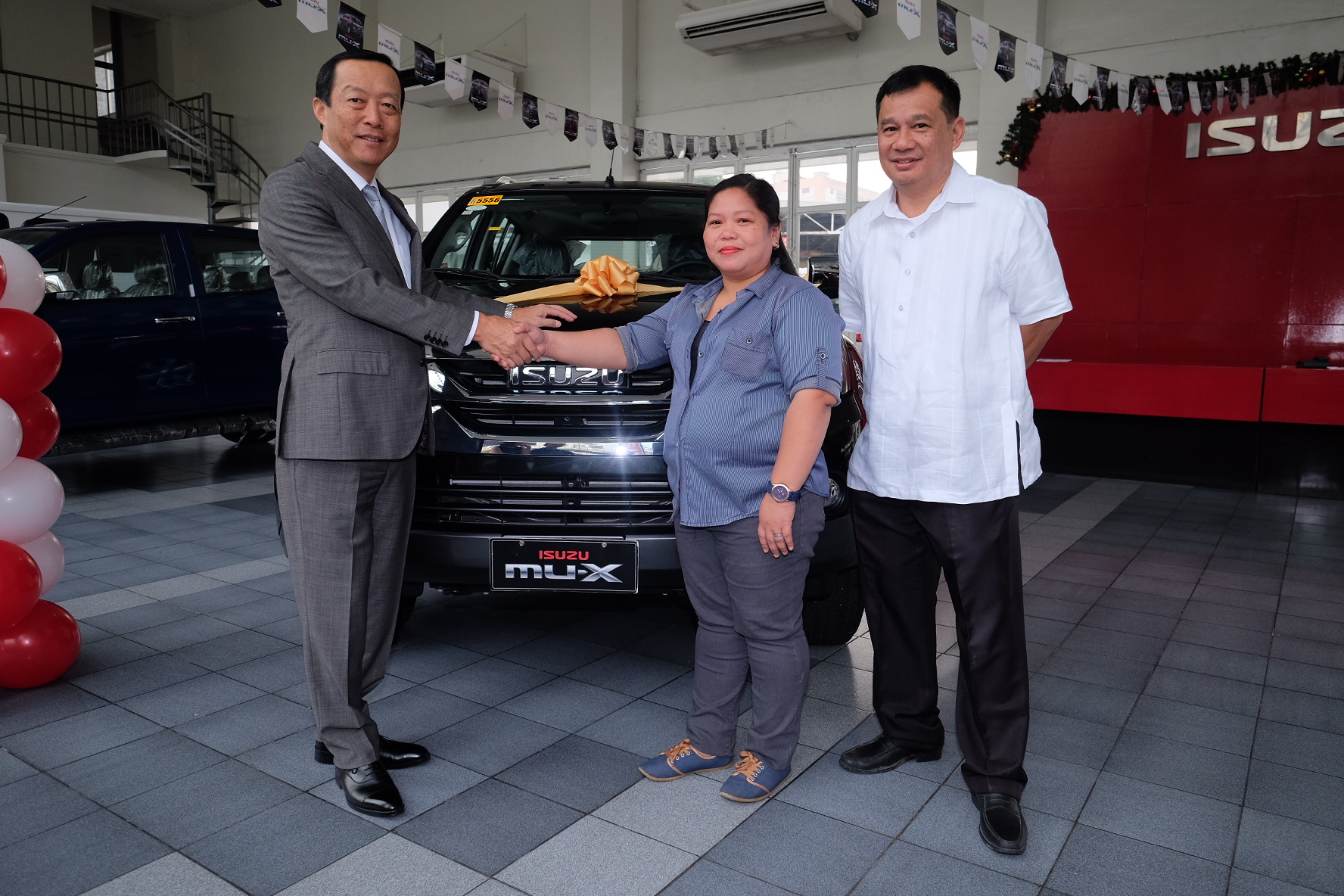 (from left) Mr. Hajime Koso IPC President, Ms. Rosalyn Manabat assistant of Mr. Randy Carolino Isuzu mu-X winner and Mr. Raymond Jarina Isuzu INTECO Group President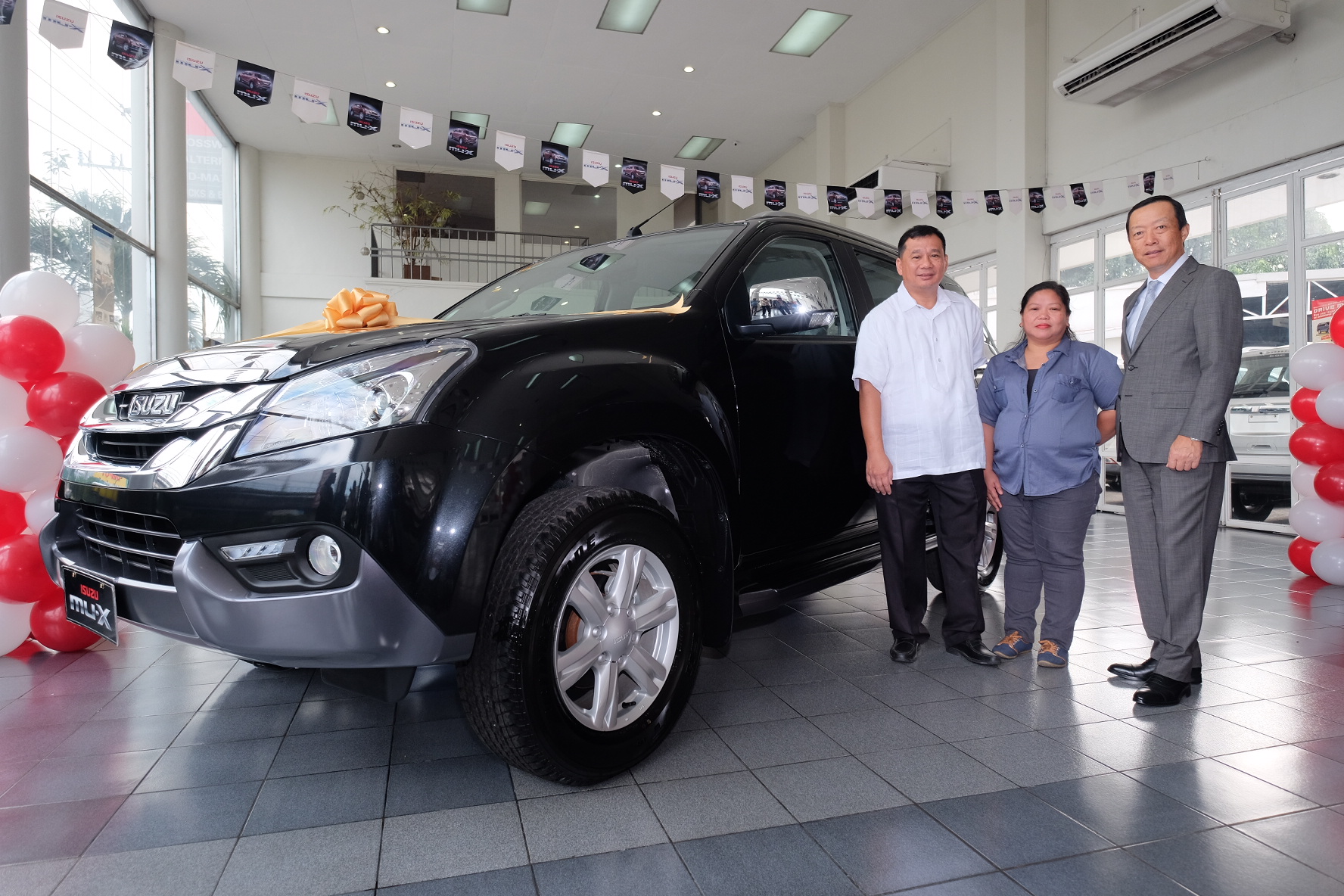 (from left) Mr. Raymond Jarina Isuzu INTECO Group President, Ms. Rosalyn Manabat assistant of Mr. Randy Carolino Isuzu mu-X winner and Mr. Hajime Koso IPC President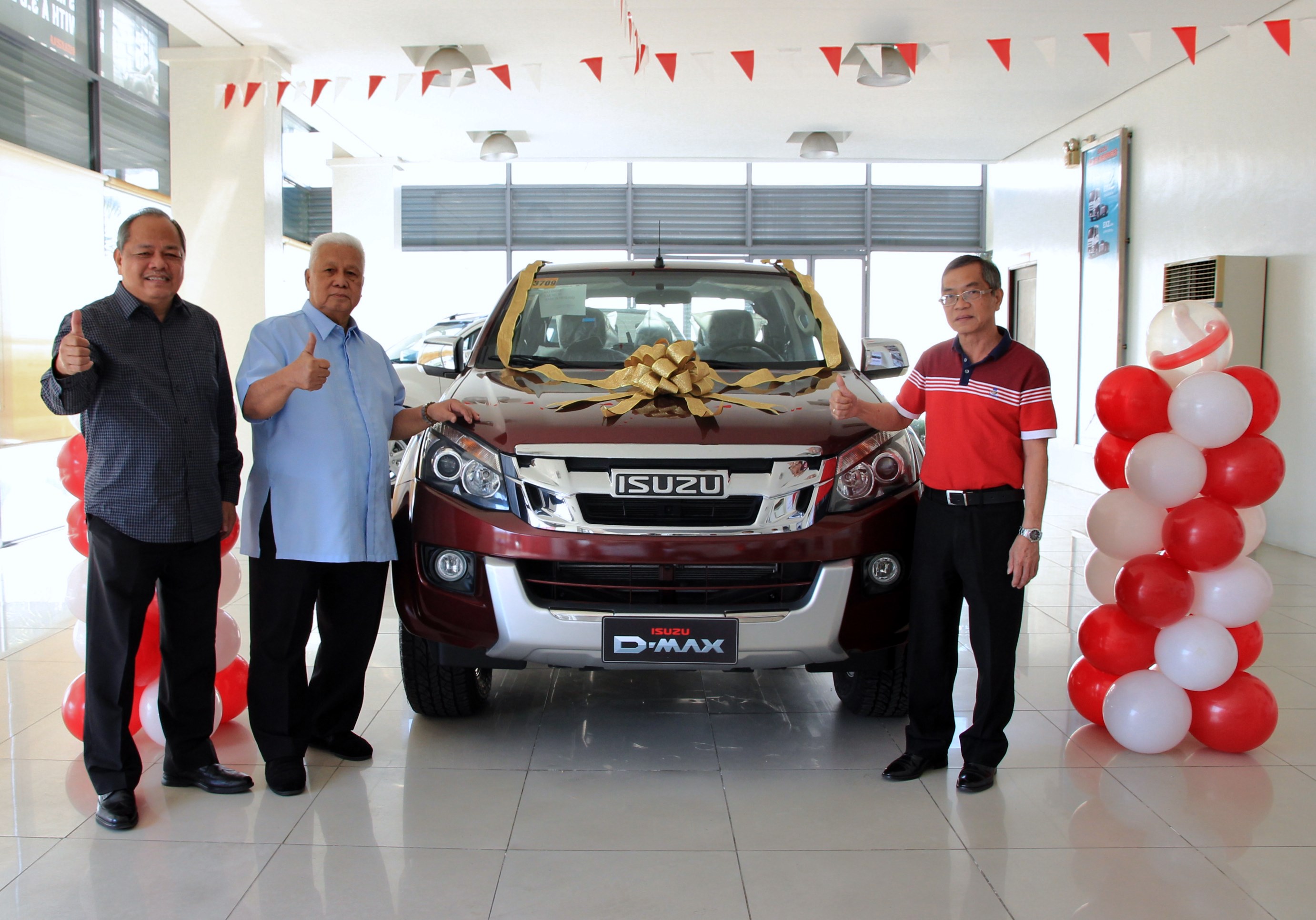 (from left) Mr. Wenceslao Camayo Branch Manager Isuzu Urdaneta, Mr. Manoling Jarina HRD Director Isuzu INTECO Group, Mr. Romeo Concio General Services Officer City Government of Baguio.
Further, Rogelio Avergonzado (NCR), Napoleon Tedd David Limpco (Luzon), Sarah Ann Javison (Visayas) and Muhamid Janti (Mindanao) and some three companions each are set to enjoy a grand vacation showcase to Amanpulo after winning the raffle.
Moreover, 40 winners of P50,000 coupon that can be used to purchase Isuzu supplied parts, lubricants, accessories, and Best Value Package (BVP) in any authorized IPC dealerships nationwide.
IPC president Hajime Koso said that the promo is a way of extending their sincerest gratitude to those who show their trust and confidence to the brand—old and new alike—that made them reach their milestone in the country.
"As a way of showing how pleased we are with how you show your trust and confidence in us, we have brought you this," he said. "We in Isuzu will continue to find better ways to serve the Filipinos as we will be constant reliable partners in business or leisure alike," Koso noted.
The next batch of winners—those who bought their IPC light commercial vehicles (LCV) from December 1-31—will be drawn on January 15, 2016.
Last October, the local arm of Japanese carmaker Isuzu added another feather to its cap after breaching the 200,000-sales barrier last October during their 19-year stint in the country.
Based on its records, IPC has sold a total of 201,777 since its operations in 1996 up to October 2015.
Leading their sales was the ever-reliable flagship model Isuzu Crosswind (introduced in 2001), with a total of 85,308 units sold after it was introduced some 13 years ago. Also, the biggest sale for the well-loved AUV Crosswind was made in 2003, where 8,901 units were rolled out.
The D-Max pick-up placed second in their top-selling units, delivering 29,115 after being launched in the Philippine market in 2003. The presence of the Isuzu mu-X (launched in 2014), is also being felt in the local scene after reaching the 10,000-unit mark in October 2015.
Date Posted: 2016-01-19 15:52:26
---
Isuzu offers budget-friendly \'Best Value Parts\'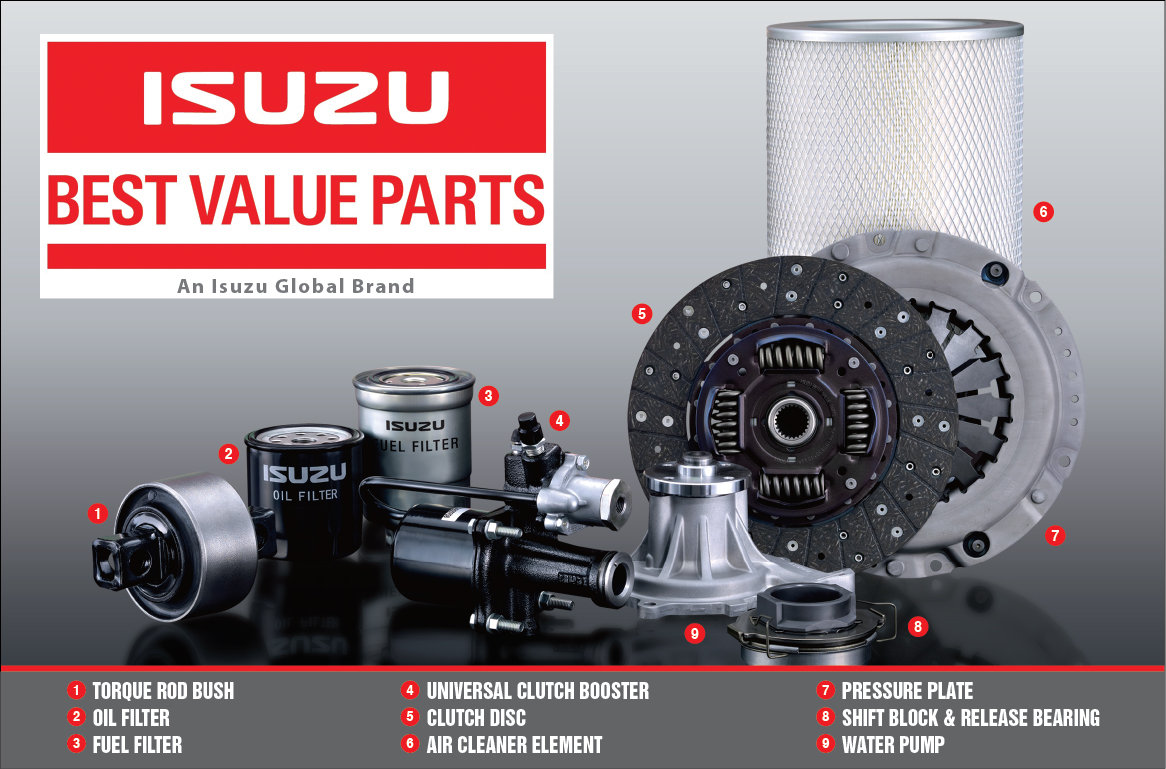 ISUZU, maker of some of the world's most fuel-efficient and low maintenance vehicles, together with its local arm, Isuzu Philippines Corporation (IPC) is expanding its low-cost product line of spare parts –Isuzu Best Value Parts. Affordably priced yet having the same quality as genuine parts, Isuzu's BVP are perfect for the budget conscious Filipino vehicle owners.
Great Value and Quality
Initially introduced in 2014, Isuzu's Best Value Parts (BVP) are produced in compliance with Isuzu Motors Limited Japan's standard quality guidelines for developing spare parts – guaranteed to give the same performance and durability similar to genuine Isuzu parts.
Expressing confidence in this product-line is IPC's President Hajime Koso, "Our responsibility to our customers goes a long way; we want to guide them every step of the way – especially on properly maintaining their vehicle. Isuzu Best Value Parts are practical alternatives to those who simply cannot afford or will not spend on the premium price of the genuine part - its safety and durability is Isuzu-guaranteed," he said.
Carefully crafted and developed by Isuzu Parts experts, Best Value Parts are proven safe to replace genuine parts and can be used even during the vehicle's warranty period compared to other non-genuine parts available in the market which will void vehicle warranty.
Affordability and Availability
Manufactured by Isuzu's trusted parts suppliers, BVP are priced as much as 60-70 percent lower than their genuine counterparts due to the low manufacturing cost in their source country. Indeed a practical alternative, customers are given the freedom to choose between the Isuzu genuine parts or BVP whenever they would have their vehicles serviced in any Isuzu dealership.
Ideal for fleet businesses, BVP are readily available in all Isuzu dealership nationwide and in a wide product range to reduce vehicle maintenance cost. Currently, BVP are offered in 14 different parts categories from oil filter, clutch booster, air cleaner, fuel filter, clutch disc, pressure plate, shift block, water pump, belt, torque rod bush, wiper blade, hub bearing, shock absorber and brake lining; which are a few of the most replaced parts during vehicle servicing.
According to Isuzu, this product line-up will soon expand as they plan to cater to more models and offer a viable option to Isuzu servicing customers. IPC also expects that the sales of these parts will increase as more and more customers are finding ways to lower the maintenance cost and servicing downtime of their vehicles. To know more about Isuzu Best Value Parts call or visit any Isuzu dealership near you. Log on to www.isuzuphil.com for dealer contact details.
Date Posted: 2016-01-19 15:07:35
---
Isuzu presented technical graduates - welcomes new batch of scholars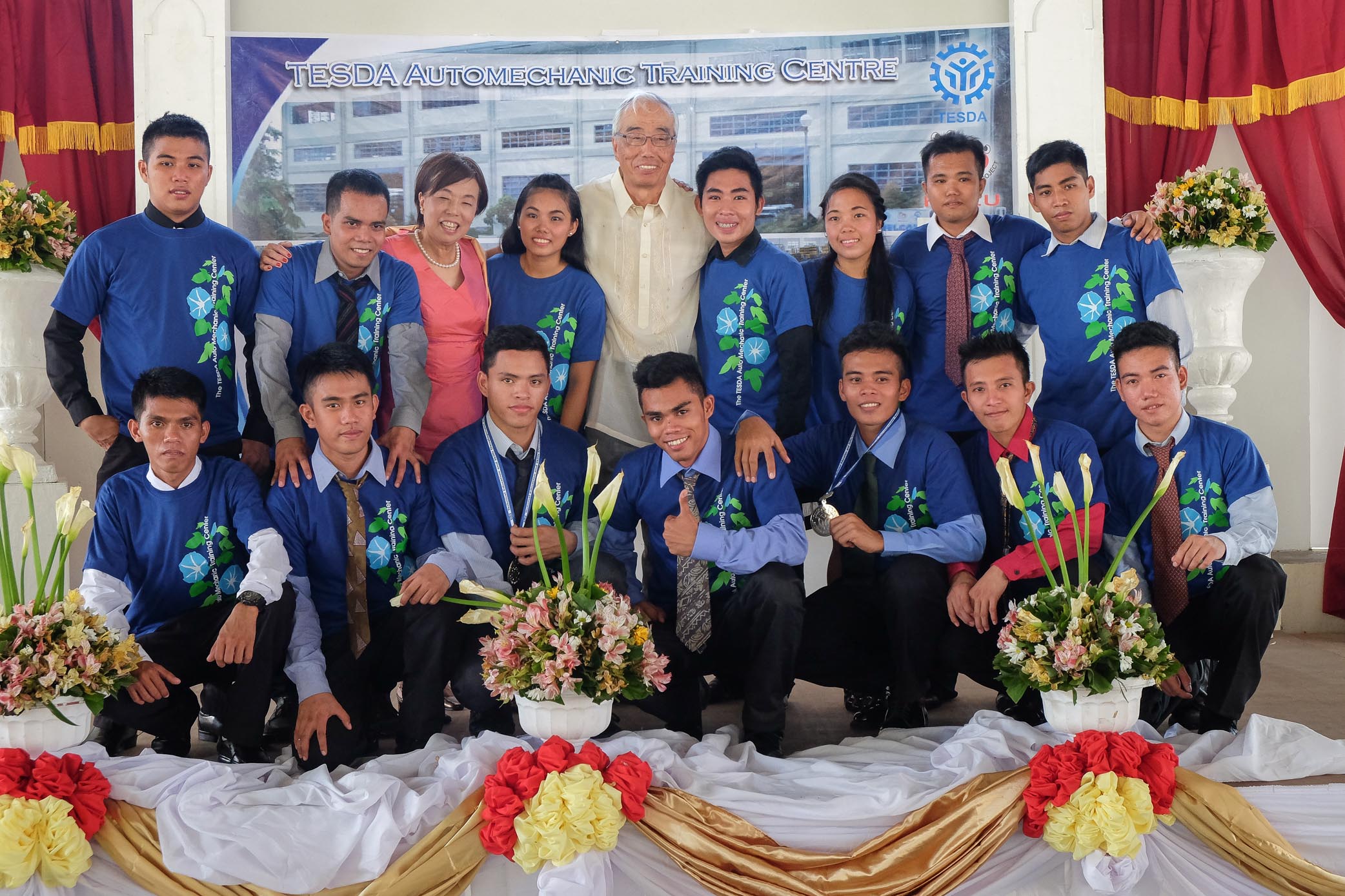 Continuing what it started five years ago, Isuzu Motors Ltd. (IML) Japan in partnership with the Technical Education and Skills Development Authority (TESDA) and World Vision Philippines bids farewell to another batch of successful service technician graduates.
On August 24, the Isuzu-TESDA Technical Training Center in Tacloban, Leyte presented 14 new graduates who have completed their National Competency certification program – a four levelled program that is administered by the regional arm of TESDA.
Isuzu Motors Ltd., although operating in Japan, has been actively supporting this project since 2010 and has given scholarship grants to more than a hundred underprivileged teens in the Visayas. Even after Typhoon Haiyan (Yolanda), IML extended its support to their scholars and their families by providing immediate relief assistance.
In February this year, after facility renovation, the technical center reopened its doors to its trainees and continued its classes. Since its inception, the project has seen an big improvement in the lives of its graduates; most of them are now working in different service centers here and abroad – with the same future awaiting recent graduates.
Take for instance the case of Jhon Moscosa, 22, from Oras, Eastern Samar; who from their home town had been given a chance to have a technical education and is even awarded as the valedictorian of the graduating class.
Moscasa, who had a two-year stint as an IT student, was forced to stop college because there wasn't enough money from his family to send him to school. This is when he heard about the scholarship project – he applied and got accepted.
According to him, even if there was a long pause in his training due to the typhoon and its recovery process, he still chose to continue the program as he believes it will help him land a better job. He said that he is now sure of his future beside from the fact that we can now support his parents back in Samar.
Even before the graduation rites, trainees had already been pre-qualified to work in different Isuzu service centers locally. In fact, most of them have already secured service technician positions in Isuzu dealerships and Isuzu Autoparts Manufacturing Corporation.
"All they needed was the opportunity for an education, we gave them that opportunity and in return we can see that they are helping themselves uplift their status in life" said IML Senior Counsellor Yoshinori Ida. "We are very proud that most of our scholars now are living a more comfortable life, we hope to continue this endeavour for as long as possible" he adds.
In line with the ceremony, the training center welcomes 18 new hopefuls to be included in the Batch 12 of trainees. They will undergo the same NC I-IV certification program that the center offers. According to TESDA Region VIII Director Cleta Omega, TESDA is in the process of leveling up the program by offering a fifth and final diploma course which will focus more on the trainee's supervisorial and managerial skills.
If approved, TESDA can now issue a diploma to all successful students which they can use to apply for a job. As for Isuzu, the company vows to continue supporting this project as they see the results of it changes the life not just of its scholars but their family as well.
Date Posted: 2015-11-17 08:54:04
---